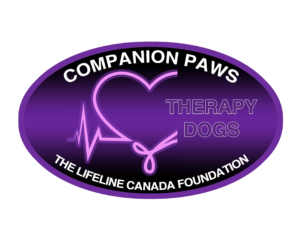 Jason is the Ontario adjudicator for Companion Paws ( Canada), assessing and certifying therapy dogs and conducts monthly workshops for those interested in therapy dog work.
Pre-Assessment Workshop
This workshop is available for visitation, assisted and personal therapy dogs.The 2hr workshop provides training ideas, practical circumstances and practice on how to prepare your dog to complete an evaluation offered by TLC's Companion Paws program that will be equal to the standards of Therapy Dogs International. Dogs need to be friendly, good with people of all ages and not aggressive to other dogs. Dogs are expected to be clean and healthy with up to date vaccinations. Bring proper leads and collars so your dog is always manageable in the group. There is no age limit on dogs for the workshop provided they are at least 1.5 yrs to begin.
Companion Paws (Canada) Certification Test
For individuals and their dogs who have successfully completed the pre-assessment workshop.
The CPC Test is divided into 2 stages and has 14 individual tests.
To qualify as a therapy dog, the dog must have NO aggression towards people or other dogs.
The dog must have basic therapy obedience completed prior to the evaluation.
* Testing requirement summary will be provided and covered at the initial 2hr pre-assessment workshop.
* Jason and everyone at Companion Paws (Canada) are dog lovers. As such, we only qualify dogs who enjoy interacting with strangers so as to protect dogs who don't from being over-stressed or forced into such activities.
* Successful dog/handlers will receive the CPC vest, card and TLC certification registration after passing.
Pricing
2 hour pre-assessment workshop $55
https://thelifelinecanada.ca/ companion-paws-canada/ workshop/
CPC Certification evaluation $195
https://thelifelinecanada.ca/ companion-paws-canada/ evaluation/
* Contact Jason for more information