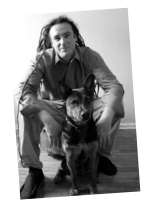 Jason is certified master dog trainer and dog behavior specialist based in Guelph, Ontario and has trained dogs internationally. Jason studied the art and science of dog training with Michael Ellis at the Michael Ellis School for Professional Dog Trainers in Santa Rosa, California, and apprenticed with master dog trainer Dave McMahon in Niagara Falls. He has also studied the Science of Working Dogs with Professional Animal Behavior Associates at the University of Guelph and attended scent detection seminars with Urban Search and Rescue, ATS K9 Services, Search and Rescue Ontario, and FireK9, an arson detection dog unit based in California.
Jason's international dog training experience includes contracts for private clients in the Philippines and working with the Island Rescue Organization ( 2012, 2014, 2016) to provide behavioral rehabilitation and obedience training for many of the 54 Pitbulls rescued from the dog fighting syndicates in Manila. Jason was also the guest speaker at the annual Cebu City, Philippines Dog Expo in 2012, and trained rescue shelter dogs in California. Most recently Jason has worked extensively with street dogs in India alongside Red Paws Rescue and the Gandhi Animal Care Centre, and has taught dog training seminars and workshops in Delhi, India.
Jason has trained scent detection dogs for use in conservation and research of rare and endangered species and is a regular consultant at an Ontario Veteran's Care program, helping Canadian military veterans with their PTSD service dogs. Jason works with Companion Paws Canada as their Ontario adjudicator for therapy dog assessment and certification and continues to work with the John Howard Society teaching "Paws for Praise" workshops to high-risk youth.
Awards
Voted Guelph's #1 Best Dog Trainer by Guelph Mercury/Tribune Reader's Choice Awards, 2017
Voted Guelph's " Favourite Dog Trainer" by Guelph Mercury's Readers Choice Awards, 2015
Diamond award winner for " Best Dog Trainer" in 2012
Gold award for " Best Dog Trainer" by Guelph Tribune Readers Choice Awards, 2011